To my Father

All the years I look back and see you standing beside me.
With that understanding love you always have for me .
No matter what I asked for with no questions asked you gave it to me.
Ever since I was little I was your little girl.
Always wanted my dad there to
show you how well I was doing ,
wanted so much for you to be proud of me.
I always knew you were. Raising three of us wasn't easy
and I know raising two daughters wasn't easy
but you always made our lives happy.
As having a son of my own there is nothing more then
for him to grow up and be just like his PAPA.
A man that will do anything for any body and do
anything for his kids and family.
Dad if I have never told you this and incase you don't
know I love you dad your my hero when I need one.
My rock in my life I know I can turn to when
I need someone most. With all this daddy Thank
You for being you. love always ,
Dezie

written for my dad to let him know how much I love him
Nov 10, 1999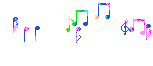 Hero