In Loving Memory of
William " Bill"
"SHA SHA" Clyde Pensoneau
June 1 , 1971 August 13, 2002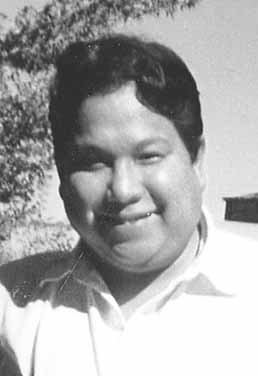 When tomorrow starts without me,
And I'm not there to see.
If the sun should rise and find your eyes,
All filled with tears for me;
I wish so much you wouldn't cry
The way you did today,
While thinking of the many things
we didn't get to say
I know how much you love me,
As much as I love you
And each time you think of me,
I know you'll miss me to:
But when tomorrow starts without me,
Please try to understand,
That an Angel came and called my name,
And took me by the hand,
And said my place was ready
In Heaven far above,
And that I'd have to leave behind
all that I dearly love.
But as I turned to walk away,
A tear fell from my eye
For all my life I've always thought,
I didn't want to die.
I had so much to live for;
So much yet to do.
It seems almost impossible
That I was leaving you.
I thought of all the yesterdays
The good ones and the bad;
I thought of all the love we shared;
And all the fun we had,
If I could relive yesterday;
Just even for awhile
I'd say goodbye and kiss you
And maybe see you smile,
But then I fully realized,
That this could never be
For emptiness and memories
Would take the place of me,
And when I thought of worldly things
I might miss come tomorrow,
I thought of you and when I did ,
My heart was filled with sorrow.
But when I walked through Heaven's gates
I felt so much at home.
When God looks down and smiles at me
From His great golden throne He says,
"This is eternity And all I've promised you"
Today for life on earth is past,
But here it starts anew.
I promise no tomorrow,
But today will always last
And since each days the same way
There's no longing for the past;
But you have been so faithful,
So trusting and so true
Though there were times
you did some things,
You know you shouldn't do.
But you have been forgiven,
And now at last your free.
So won't you take my hand
And share my life with me?
So when tomorrow starts without me,
Don't think we're far apart,
For every time you think of me
I'm right here in you heart.
AUTHOR UNKNOWN

William Clyde Pensoneau, Ponca City resident,
passed from this life to the eternals early
Tuesday morning,
Aug. 13, 2002, at his home. He was 31.
An evening prayer service will be held at 7:30 p.m.
Monday in the Ponca Tribal Cultural Center.
There will be no funeral feast or give-a-way.
The funeral will be at 2 p.m. Tuesday, Aug. 20,
at the Ponca Tribal Cultural Center.
The Rev. Maynard Hinman
and the Rev. Toby A. Blackstar,
Otoe Baptist Church of Red Rock, will officiate.
Burial will follow in the Ponca Tribal Cemetery
under direction of Grace Memorial Chapel.
William Clyde Pensoneau was born on June 1, 1971,
in Ponca City; he was the son of Steve Pensoneau
and Marilyn Coyote House.
He was reared in Ponca City,
attending Ponca City Schools
and graduating from Po-Hi in 1990.
He then attended
Northern Oklahoma College for two years,
majoring in business.
He went to work for the
Ponca Tribe Casino as manager
and worked until it was forced to close down.
On November of 1998,
Bill married the former Rita Jacket in Cortez, Colo.,
and the couple made their home in Cortez. In 2000,
Bill moved back to
Ponca City to be closer to his father.
He was of the Baptist faith and a member
of the Giveswater Service Club and was an avid OU fan.
He is survived by his father, Steve Pensoneau
of the home in Ponca City; his mother,
Marilynn House of Towaco, Colo.;
his sister, Elizabeth "Cookie" Pensoneau of Towaco, Colo
.; his brother, Mark David Pensoneau of Ponca City;
one son, Steven Pensoneau of Towaco, Colo.;
one daughter, Reagan Cole of White Eagle;
three aunts, Charmain Billy,
Darlene Harjo and Elizabeth Primeaux;
one uncle, David Christopher Pensoneau;
and one niece and one nephew,
as well as other relatives and friends.
His grandparents; one aunt, Lila Vera Pensoneau;
and two uncles, Edward Pensoneau Jr.
and William Cecil Pensoneau
on July 25, 2002, preceded Bill in death.
Casket bearers will be Jon Primeaux,
Mike Coyote, Mark Pensoneau,
Douglas Pensoneau,
Darrell Clark and David Primeaux.
Honorary casket bearers will be Clint Primeaux,
Steven Leighton Pensoneau,
Conrad Jacket, Derek Billy, Alex Youker,
Nelson Roughface, Denet Sosie, Kinsel Lieb,
Delbert Cole and Colbert Cole.

Bill you were so loved by many I hope
you are resting in heaven above.
Can't wait to see you again .
SOONERS WON THE ROSE BOWL !!!!
I KNOW YOU ARE HAPPY ABOUT THAT :)))